تست 1 – تسک 1 – کمبریج آیلتس 13 صفحه 29
The two maps below show road access to a city hospital in 2007 and in 2010.
Summarise the information by selecting and reporting the main features, and make comparisons where relevant.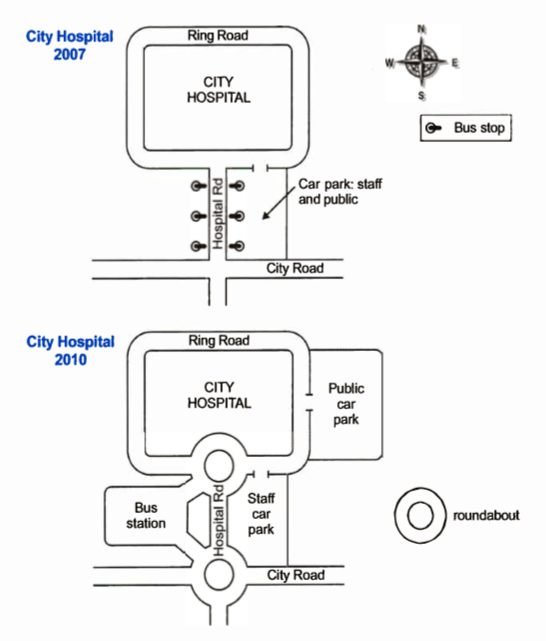 The two presented maps describe the changes made to a city hospital's transport infrastructure over a 3-year period starting from the year 2007.
Looking from an overall perspective, it is readily apparent that the largest changes involved transportation, including additional public parking, the construction of a nearby bus station and new roundabouts.
Looking at the map of 2007, it can be seen that the hospital was connected to City Road by Hospital Road, which formed junctions with Ring Road and City Road respectively. There were three bus stops on either side of Hospital Road, with a car park on its east side designated for both staff and public.
In 2010, the junctions of Hospital Road with Ring Road and City Road were redesigned to roundabouts, which provided extra access to a bus station on the west side of Hospital Road. Another noticeable change was witnessed in the reconstruction of car parking areas. The car park on the east side of Hospital Road got split into two separate car parks: the staff car park was left on the east side, while the public car park was relocated to the east side of the hospital with a connection to Ring Road.
(199 words)
تست 1 – تسک 2 – کمبریج آیلتس 13 صفحه 30
Living in a country where you have to speak a foreign language can cause serious social problems, as well as practical problems. To what extent do you agree or disagree with this statement?
One of the biggest social and practical challenges that people living abroad face is the language barrier. I believe that this can lead to very serious social problems in many countries but technology has made the practical issues less relevant over the last several decades.
The main reason why having to speak a foreign language can cause social problems is through the breakdown in understanding between people of different cultures. The most salient example of this is in the United States where there has been an influx of Hispanic immigrants, especially along the Southern border. These immigrants are typically able to integrate well if they learn English but those that have not learned have provoked social problems and even violent reactions. Many English speaking residents resent the immigrants' failure to integrate and this has resulted in discriminatory practices and widespread racism towards Hispanics. This in turn has caused many Hispanics to develop an antipathy towards other residents and segregate themselves in homogeneous neighborhoods.
There are comparatively fewer practical problems caused by not knowing the language of the country where you live because of the development of technology in general and smartphones in particular. Computers have made it much easier to look up directions, find important information and get quick translations. Smartphones have made this even easier. If someone does not know the language of the country where they live, they can still find restaurants to their liking on Facebook and get simple directions through Google Maps. They can even order food online without having to use another language at all. If they need to communicate with someone who does not speak their language they can simply take out their phone and use Google translate to slowly, but effectively, convey a message. The problems that not knowing the language of the country where you live causes trouble are therefore minimal and easily overcome.
In conclusion, I only partly agree with the statement in question. Not knowing a language when living abroad can cause social unrest but pragmatic concerns have been mitigated by recent technology. In the future, it will become even less important to know the language of the country where you live although there is great potential for increased social unrest and heightened tensions in many parts of the world.
(380 words)
تست 2 – تسک 1 – کمبریج آیلتس 13 صفحه 51
The chart below shows the percentage of households in owned and rented accommodation in England and Wales between 1918 and 2011.
Summarise the information by selecting and reporting the main features, and make comparisons where relevant.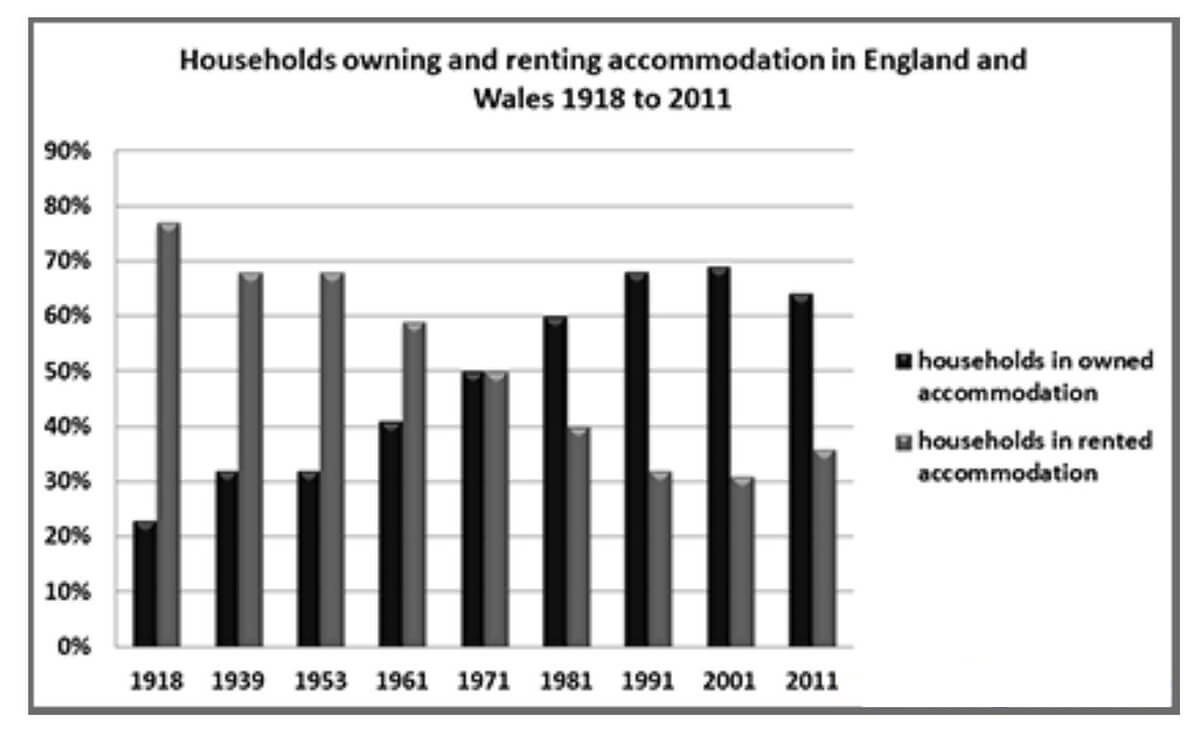 The presented bar graph illustrates the proportion of owned and leased houses in England and Wales from 1918 to 2011.
Overall, owning and renting showed opposite trends with a sharp increase in ownership and a reciprocal decline in the percentage of renters. By the end of the period, overall ownership overtook renting by a wide margin.
In 1918, household ownership stood at around 23% compared to rentals, which were at nearly 80%. From then on, there was a steady rise in ownership and drop in rentals. Rentals reached 69% in 1939 and held steady until 1953 before falling to 59% in 1961. Ownership rose to 31% in 1939, remained there in 1953 before becoming even with rentals at 50% in 1971.
This trend continued for both figures with rentals declining sharply to 40% and 31% in 1981 and 1991, respectively. Likewise, ownership rose to 60% and 69% in the same years. In 2001, the falling rate of rentals slackened to 31% (69% for ownership) followed by a small rebound that bucked the trend at the end of the given period with rented houses rising to nearly 40% and owned houses dipping to just over 60%.
(195 words)
تست 2 – تسک 2 – کمبریج آیلتس 13 صفحه 52
Some people believe that nowadays we have too many choices. To what extent do you agree or disagree?
It is common nowadays to hear people decrying the number of choices they have relative to the past in a variety of areas. While I think that there is some truth in this, increased choice is ultimately a positive trend because it opens up options outside the mainstream.
The main reason why increased choice is considered a negative development is that it makes life more complicated. Take for example the supermarkets which are filled with different brands with hardly any meaningful differences. This can cause people to waste time and energy making choices with little actual impact. This is also the case when it comes to online streaming services like Netflix and HBO. Not only do people have to spend time researching these sites but once they make a choice they are limiting what they will be able to watch in the future. If they decide to subscribe to all of them, suddenly they will be paying a disproportionate amount for basic viewing content.
Although choice introduces a level of complexity to life, the main benefit is that it opens up options for people outside dominant cultural trends. The best example of this is the changes that have taken place in the music industry over the last 20 years with the advent of iTunes and streaming services. In the past, the big pop acts dominated the radio and album sales. Now, however, the music scene is much more fractured. This makes it more difficult for some artists but also opens up the possibility that you can find a niche of music that you and some other people love. This has been replicated in other areas like podcasting, painting, and film as well. People can find what interests them outside of what major companies are trying to push.
In conclusion, the drawbacks of increased choice do not outweigh the advantages gained as it allows people to explore what interests them the most. In the future, this will continue and present challenges but also allow for a more diverse cultural experience for rich and poor alike, all over the world.
(348 words)
تست 3 – تسک 1 – کمبریج آیلتس 13 صفحه 73
The bar chart below shows the top ten countries for the production and consumption of electricity in 2014.
Summarise the information by selecting and reporting the main features, and make comparisons where relevant.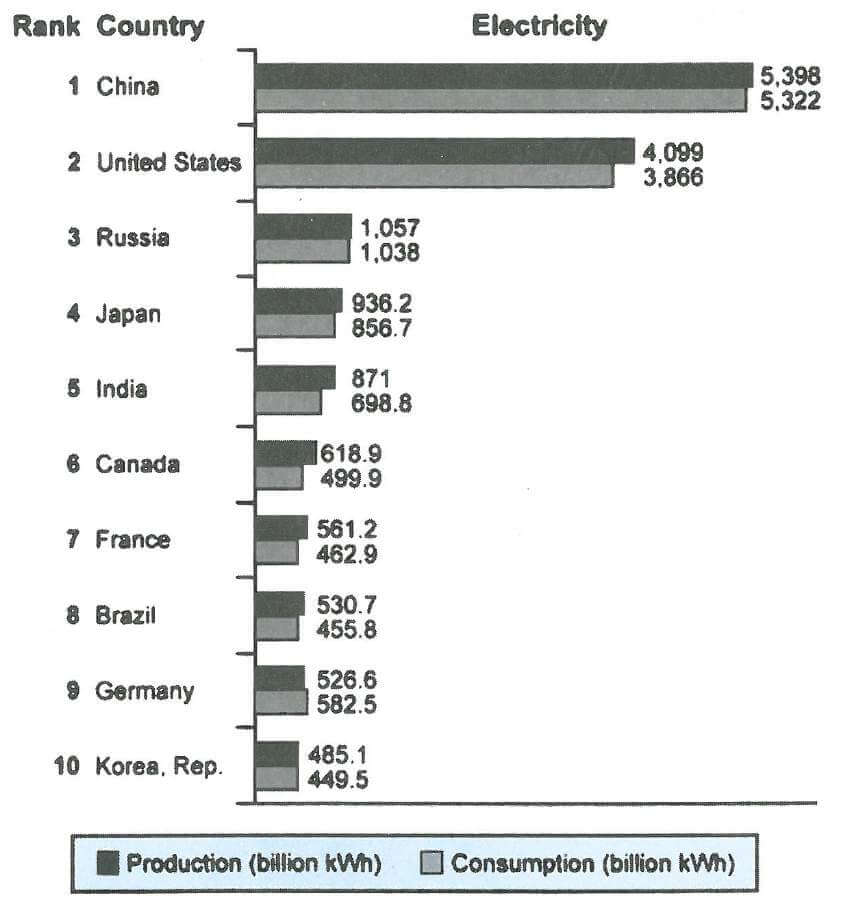 The bar chart compares the amount of electricity produced and consumed in the ten highest-ranking countries in 2014.
Overall, the United States and particularly China were strong outliers while the remaining countries had similar numbers and lagged far behind in both production and consumption. It is also noticeable that Germany was the only country that consumed more electricity than it generated.
Out of ten provided nations, China ranked first with the production and consumption of electricity being just over 5,300 billion kWh each. The next nearest country in terms of both statistics was the US, where residents consumed 3,866 billion kilowatts an hour and produced slightly more at 4,099.
Looking at the remaining countries, we can see that Russians were the only nation with electricity generation and consumption being just over 1,000 billion kWh each, followed by Japan and India with their figures being slightly lower ranging from 698.8 to 936,2 billion kWh. All other countries generated and used around 500 billion kWh. However, Germany was the only country that used more electricity than they made, and Korea Republic was the smallest producer and consumer of electricity among these top 10 countries.
(192 words)
تست 3 – تسک 2 – کمبریج آیلتس 13 صفحه 74
Some people say history is one of the most important school subjects. Other people think that, in today's world, subjects like Science and Technology are more important than History. Discuss both views and give your own opinion.
An increasing concern of people in modern times is the role different subjects at school play in forming students' future. Some argue that History is of paramount importance; however, others feel that subjects such as Science and Technology are more needed in our evolving world. This essay will examine both sides of the issue before providing an overall opinion.
First, via studying History, students develop crucial insights that serve as springboards for later political beliefs. Some of the principles students learn include liberty, patriotism, pursuit of happiness, and their responsibility to vote. By knowing the context in which these ideas emerged, students can become adults with well-informed political beliefs and it will be more difficult for unscrupulous politicians to make false assertions about the past. A further point in favor of learning History is that it helps people avoid making the same mistakes happened in the past thanks to previous experience of their precursors. For instance, the results of policies in the past enable governments to impose appropriate schemes to increase economic growth.
Despite these arguments, there is a case for the idea that other subjects related to Science and Technology are beneficial. The primary reason for this is that these subjects can provide students with foundation knowledge which help them to adapt to the technological development. For example, if students study Engineering at school, they may understand how electronic gadgets work. Secondly, it is believed that few students will end up with careers in history, as historians or professors but the majority of workforce will be in science-related fields. As a result, students tend to focus on these subjects to land well-paid jobs in the future.
Having considered both sides of the issue, I would argue that although History has insightful lessons for us all, subjects in Science and Technology are more integral to modern life. This will become ever more important as the tech industry continues to dominate the future job market.
(324 words)
تست 4 – تسک 1 – کمبریج آیلتس 13 صفحه 94
The plans below show the layout of a university's sports centre now, and how it will look after redevelopment.
Summarise the information by selecting and reporting the main features, and make comparisons where relevant.
The diagrams detail the present construction of a university sports complex and proposals for its renovation.
Overall, there are plans to remove the outdoor courts and expand the gym with additional recreational facilities for swimming, changing, dancing, and activities largely unrelated to exercise like shopping and having coffee.
At the moment, the university's main building is flanked by large outdoor courts. The plan is to remove the western courts in favor of a leisure pool larger in size than the current pool. The entire main building including the changing rooms, reception and seating area will not undergo alterations. The only exception is the gym on the northern end of the building which will be lengthened eastwards to connect with two new adjoining dance studios.
The outdoor court on the eastern side will be replaced by a sports hall. To the southeast of this sports hall, the university will add an additional changing room, mirroring the same room in the southwestern corner of the plans, and an abutting cafe to the west. The large entrance area will not be impeded in any way but a new sports shop will open next to the westernmost changing room.
(195 words)
تست 4 – تسک 2 – کمبریج آیلتس 13 صفحه 95
In spite of the advances made in agriculture, many people around the world still go hungry.
Why is this the case?
What can be done about this problem?
Recent years have witnessed tremendous developments in agricultural science. Yet, there still remains starvation in some regions all over the world and people continue to suffer and even die from hunger. There are several reasons for this and the inability to employ innovations as well as adverse weather conditions are the chief among them. However, there are some measures that can be implemented to tackle this problem.
one possible explanation for the continued prevalence of hunger despite the advanced agricultural methods is that the developing world has trouble implementing these methods. There are a number of reasons for this ranging from limited financial resources and poor existing infrastructure to political instability. One example of this would be in many African nations, where malnourishment has historically been highest because of decades-long civil wars. Long-term economic neglect in these countries means that the government has very limited ability to subsidize farming. Moreover, climate change and geographical differences aggravate this problem. For instance, adequate rain, sunshine and nourished soil are the main requirements for growing crops but they either barely exist in some countries or are so much so that crops are destroyed by natural disasters.
The solution that I believe would be most effective is directing humanitarian funds previously focused on food aid towards education and agricultural infrastructure. Food aid is a notoriously poor solution because it only offers an immediate solution and warlords often exploit it to support their continued mistreatment of their people. However, there would be better long-term effects if international organizations and governments redirected that money into helping build better farms, provide more modern equipment, and sending qualified professions to train people in need. Additionally, super seeds and plants can be invented which could stand against undesirable natural conditions even if they are not blessed with best weather conditions.
To conclude, although extreme climatic conditions in addition to troublesome implementation of farming technologies in some areas may give rise to worldwide hunger, providing financial aids for the betterment of agricultural infrastructure and enhancement of crops could help the countries dealing with famine. However, this issue warrants more attention as the gap between rich and poor, developed and undeveloped widens while technological progress continues its indifferent march forward.